I know finding a good CPA network to work with can be one of the harder things to do. Its tough telling who you want to expand your business with and who will treat you right when it matters.
I HAVE been screwed around with by some CPA networks, so nowadays I like to just push SOME traffic but not nearly what I can. I continue to do this for awhile and see how that network pans out, if they pay on time, if they have good affiliate managers, if they work more for the advertisers or publishers…just get to know how the network works.
Once I get an idea how the network performs, then I choose to expand what I can do with them.
One of the networks that has been great from the start, and who has been there to help me out more than once, is Maxbounty. These guys rock!
When I was in Vegas for Affiliate Summit, I made sure to get to know the Maxbounty team a bit better and I'm really glad I did. Both of the affiliate managers, Adam and Jessica, are really rockin. Adam is definitely one of the best affiliate managers I have had, and is always working his tail off for me.
Anyways, the whole point of this post was that I wanted to thank Adam and the Maxbounty team for a gift they just sent to my son Dyson. They shipped him a pair of skates so he can partake in some ice hockey this upcoming season.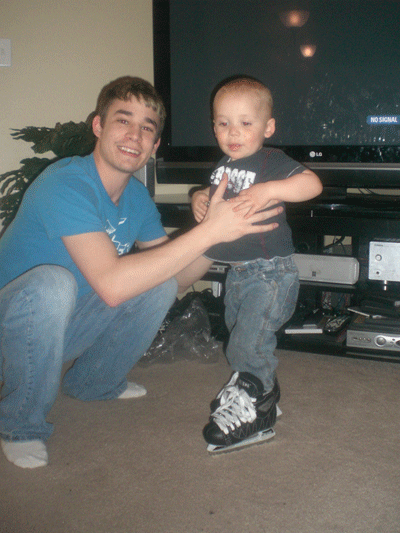 If you are still looking for that great network who is there to work WITH you, check out Maxbounty and get signed up right away. They work hard at keeping out the scammers so they can give you the attention you need. Because of this, make sure you mention that I referred you over and Jessica or Adam will get you approved right away.
Now GO MAKE SOME MONEY!