I noticed today that Google has done another Pagerank update this year.
Since I had started my blog days before the first PR update, Google gave me an initial PR0. However…after Google's new update I am now up to a PR2.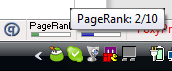 It is nice to see a bit of pagerank spreading through my pages now. It also gives me the ability to start structuring how I want my link juice to flow
On a side note, I figured while I was grabbing a screenshot of my PageRank, I would also grab a screenshot of the blogs Alexa rank incase anyone was curious.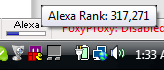 Last of all, I know I will get a ton of emails asking what I am using to show the PageRank and Alexa rank in these screenshots so I will answer the question now and save us both some time.
This is a firefox plugin called SearchStatus that can do things like highlight nofollow links, check keyword density, show indexed pages or backlinks, and many many other things. SearchStatus is a free plugin so give it a go if it looks of interest to you.
Hope everyone else had a great experience from Google's PR update. Please post with your comments and let me know what happened with your site!